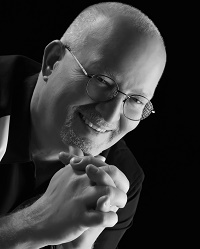 PERSON OF THE MONTH
Daryl Michum
Master of Biblical Archaeology
Bachelor of Biblical Studies

I have had a very interesting and evolving life. I was born and raised in Houston Texas. After high school I went to college with the idea of becoming a mechanical engineer in the air conditioning industry, but I had a greater desire, which led me to Lubbock Christian College (University now) where I attended for 1 ½ years.

While there I met the love of my life, Monalea, and nine months later we married. After marriage we moved to Amarillo for almost year, then moved back to Houston, where I became a certified air conditioning technician working for twelve years. Although I enjoyed the work, it was not what I really wanted to do.

It was during this time I struggled with my spiritual life. Having been raised in the church and baptized at age 13, I knew right from wrong. To those outside the family, I was a good decent person, but my family I was not the best husband nor father. But as the Scripture says "But God…". Throughout all these darker times, God and Monalea stood by me, never forsook nor gave up on me. My three biological children, Morgan, Rachel and Rebekah went through a lot of torment as young children, yet still they loved me.

"But God…" In spring 1992 I told Monalea I would like to go to Sunset School of Preaching (Sunset International Bible Institute now). With the love and support of my family, parents, extended family and many dear friends, I was able to attend Sunset the fall of 1992 and graduated the spring of 1994. During this time I worked with the Acuff Church of Christ congregation as an Associate Minister working with the youth, leading singing and preaching. While there God blessed us with another teenage daughter, Amber. I also worked to finish my degree at LCU. Then in 1999 we moved to Jal, New Mexico where I became the full time minster, preaching and working with the youth. Due to the distance from Lubbock I had to give up working on my degree. In 2015 I was blessed to be installed as an Elder.

Later, Christian friends encouraged me to continue my studies by contacting Theological University of America where I first met Jim Benton (what a blessing he has been) and I completed my Bachelor's Degree.

I love God's Word and am very passionate to defend the truth and reliability of the whole message found in it. We live in a time where the Bible is scoffed and ridiculed as myth and fables, but I desire to defend the truth of the Word and testimony found in it. I was content with my degree, but my children, now including Gail and Amy (God given spiritual daughters), have encouraged me to continue with my studies. God has since blessed me with a Master's Degree, and now I'm working towards my Doctorate. I don't know what the Lord has in store for me, but I eagerly look forward to serving our God in whatever way He leads.